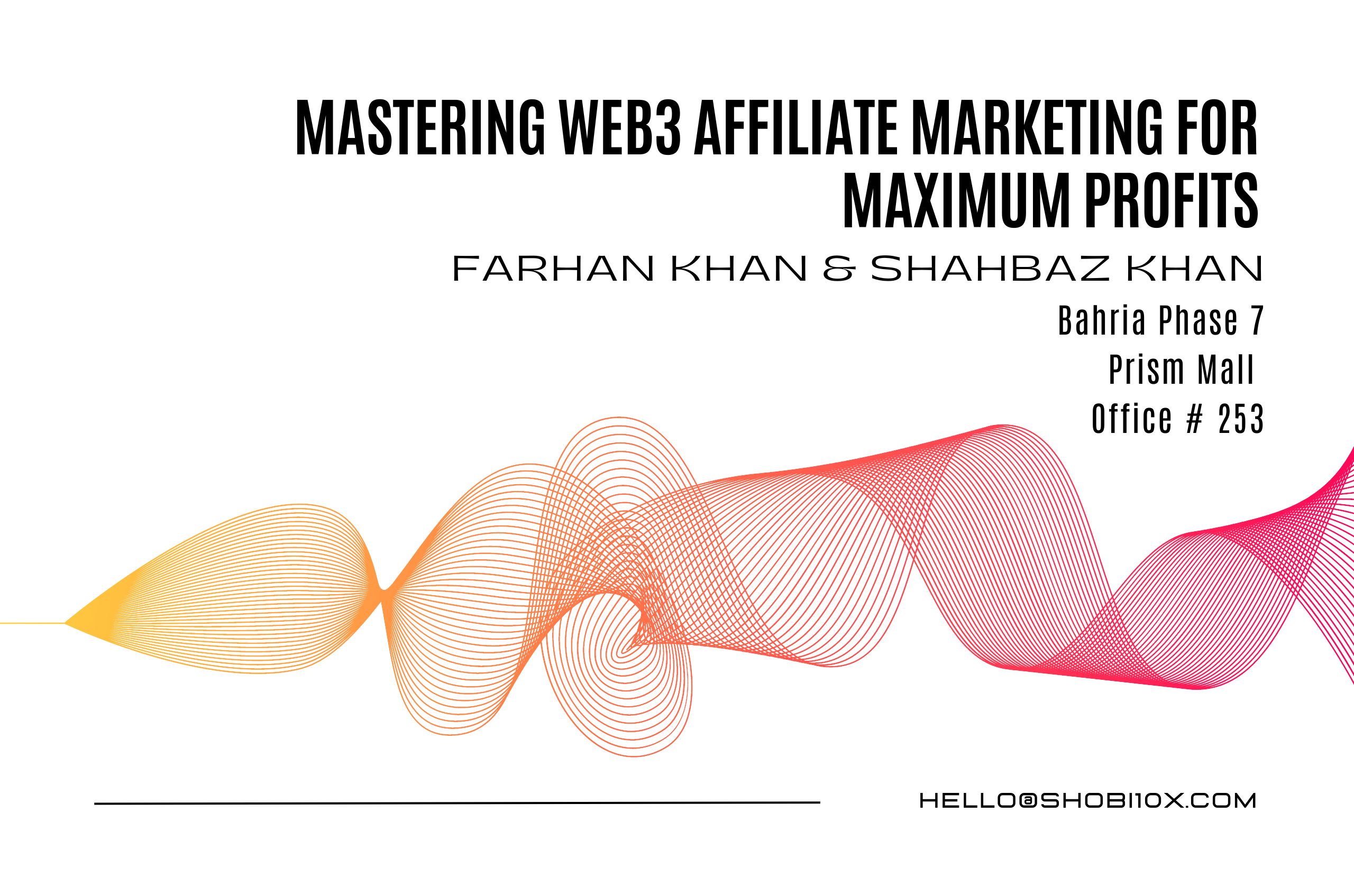 About Course
"Mastering Web3 Affiliate Marketing for Maximum Profits" is a comprehensive course designed to empower aspiring affiliate marketers with the knowledge and skills to excel in the Web3 landscape. This course delves deep into the intricacies of affiliate marketing, combining traditional strategies with cutting-edge Web3 technologies.
SUMMARY OF THE COURSE
Throughout the course, you will gain a thorough understanding of how Web3 and blockchain technology are reshaping the affiliate marketing industry. You'll explore the fundamentals of affiliate marketing, including selecting profitable niches, creating high-converting content, and implementing effective promotion strategies.
One of the key benefits of this course is its focus on Web3 integration. You'll discover how to leverage blockchain technology and decentralized platforms to enhance your affiliate marketing efforts. You'll learn about the power of smart contracts, NFTs, and decentralized finance (DeFi) in driving affiliate commissions and maximizing your earnings.
WHY TAKE THIS COURSE FROM SHOBI 10 X PROGRAM?
By taking this course, you'll gain valuable insights into the latest Web3 trends, tools, and platforms that can elevate your affiliate marketing game. You'll learn how to navigate decentralized networks, collaborate with Web3 influencers, and tap into the growing audience of Web3 enthusiasts.
BENEFITS OF THE COURSE
Furthermore, this course will leverage your skill set by equipping you with the knowledge and strategies to adapt and thrive in the ever-evolving digital landscape. You'll develop a versatile skill set that combines traditional affiliate marketing expertise with the innovative practices of Web3. This will position you as a forward-thinking affiliate marketer capable of capitalizing on emerging opportunities.
BEST FOR
Whether you're a beginner looking to enter the world of affiliate marketing or an experienced marketer seeking to expand your horizons, this course is designed to leverage your existing skills and take your affiliate marketing career to new heights. By mastering the principles of Web3 affiliate marketing, you'll have a competitive edge in the industry and the potential to achieve maximum profits.
ENROLL NOW AND START YOUR WEB 3.0 CONQUEST
Enroll in "Mastering Web3 Affiliate Marketing for Maximum Profits" today and unlock the strategies, insights, and tools to propel your affiliate marketing success in the Web3 era. Leverage your skill set, stay ahead of the curve, and seize the lucrative opportunities that Web3 has to offer.
Show More
What Will You Learn?
Understand the fundamentals of affiliate marketing in the Web3 ecosystem

Discover how to leverage blockchain technology to enhance your affiliate marketing efforts

Learn effective strategies to identify and promote high-converting Web3 affiliate products

Gain insights into decentralized platforms and networks for expanded affiliate opportunities

Master the art of building and nurturing relationships with Web3 affiliate networks and programs

Understand the intricacies of tracking and measuring Web3 affiliate marketing performance

Explore advanced techniques to optimize your Web3 affiliate marketing campaigns

Stay updated with the latest trends and best practices in the Web3 affiliate marketing space

Leverage your existing affiliate marketing skills and apply them to the Web3 landscape

Access real-world case studies and practical exercises to enhance your learning experience
Course Content
The Art of Affiliate Marketing – Upsells and Cross Sells – 2023
Introduction to Affiliate Marketing

Finding Profitable Affiliate Programs

Building and Monetizing Your Affiliate Website

Effective Affiliate Marketing Strategies

Tracking, Analytics, and Optimization

Compliance, Legal, and Ethical Considerations

Quiz 1
Student Ratings & Reviews
No Review Yet